$153.00
$218.91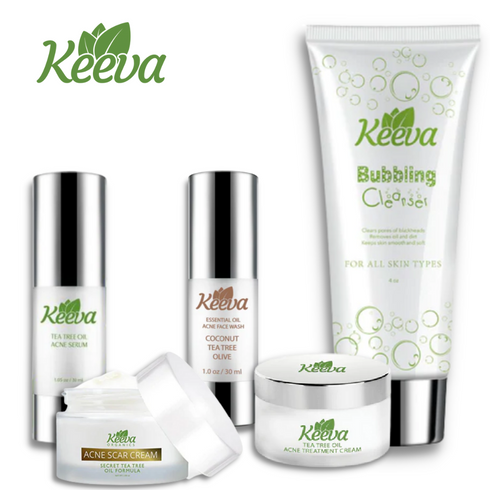 Our bundle designed to tackle your acne and acne scars!
Your Order Includes These Organic Acne-Fighting Products Guaranteed To Get You Amazing Results in 100 Days Or Get 100% of Your Money Back! You get:
About the Product
Our Acne Scars Bundle is the best solution for clearing up your acne and eliminating acne scars. Our Acne Cream, Acne Face Wash & Acne Serum work together perfectly to keep your skin clean, healthy, and acne-free while our Scar Cream is designed to eliminate acne scars.

Shockingly simple, 100% natural formula that is comprised of Tea Tree Oil as the active ingredient for fighting acne, spots & scars. 

Creamy and light

Minty, tingling sensation when applying - feel it work right away!

Works on all skin types and acne types

Doesn't dry out your skin

Start seeing results in 48 hours

40,000+ satisfied customers

100-day money-back guarantee
Skin Types
Oily Skin

Dry Skin

Sensitive Skin
Works For
Acne

Acne Blemishes

Acne Spots

Acne Scars

Clogged Pores

Bacterial, Cystic & Hormonal Acne

Severe Breakouts
See individual product pages for ingredients.
Daily Routine:
Morning:
Wash face with warm water using the Keeva Face Wash.

Apply a tiny amount (not too much) of Keeva Acne Cream, just enough to massage and spread onto the skin (face and neck).

Apply Keeva Acne Serum overall affected areas.
Evening:
Wash face with warm water using the Keeva Face Wash

Apply Keeva Acne Serum only on targeted areas where Acne Blemishes, Spots, Scars, B-acne, Pimples or Blackheads are.

Apply the Keeva Acne Cream overall affected areas.
Acne Scar Cream:
For severe scarring apply up to 3X per day. For moderate scarring apply 1 - 2x per day in the morning and night after washing and drying face.

This topical cream should be applied to scarred areas after washing your face to reduce the visibility of acne scars. This treatment begins to work within the first few applications.
Keeva Works Better Than Other Products
Thanks to its high potency and purity, Keeva provides a unique combination of antibacterial and anti-inflammatory properties. These disinfecting and soothing properties, unlike other acne treatments, will not strip the skin of its natural oils and cause further damage.
100% Safe, Paraben-Free, No Animal Testing
Keeva gets rid of severe acne, blemishes, spots, cystic scars, comedones, blackheads, whiteheads, papules, pustules, nodules cysts, dark spots, removal - everyone and everywhere on hormonal adults, children, babies, teenagers, teens, men, women, pregnancy, chest, face, neck, butt, bacne, back-acne remedies, medication, pimple wash, stick benzoyl peroxide vs salicylic acid zits hyperpigmentation gel toner night sulfur tools aid cleanser mattifying pure cream.
Best Acne Cream Or Your Money Back!
If you can't honestly say Keeva was the most effective products you've ever used, we'll give you a full refund anytime within 100 days no questions ask. Currently, that's less than 1% of customers. Our goal is to give you clear skin, naturally. We stand by our acne products with tea tree oil because they work.








WHAT PEOPLE ARE SAYING ABOUT US