$24.00
$39.00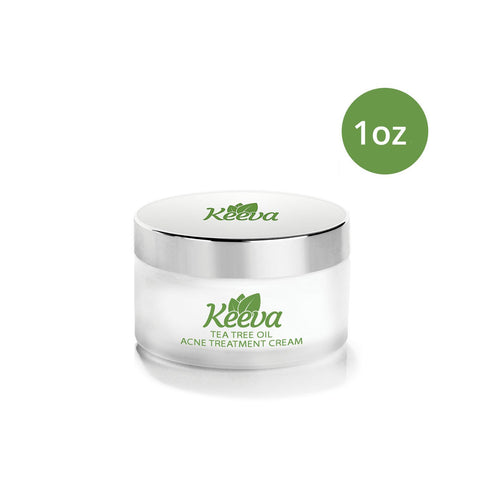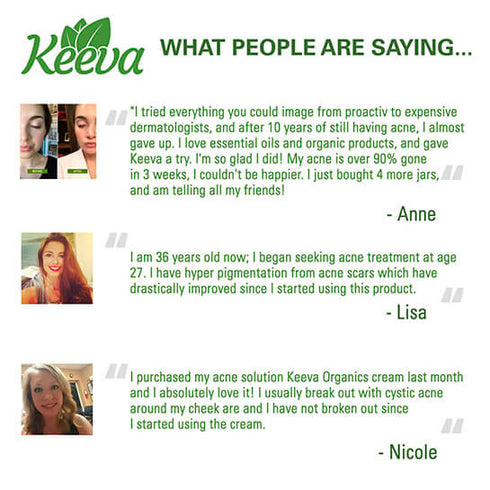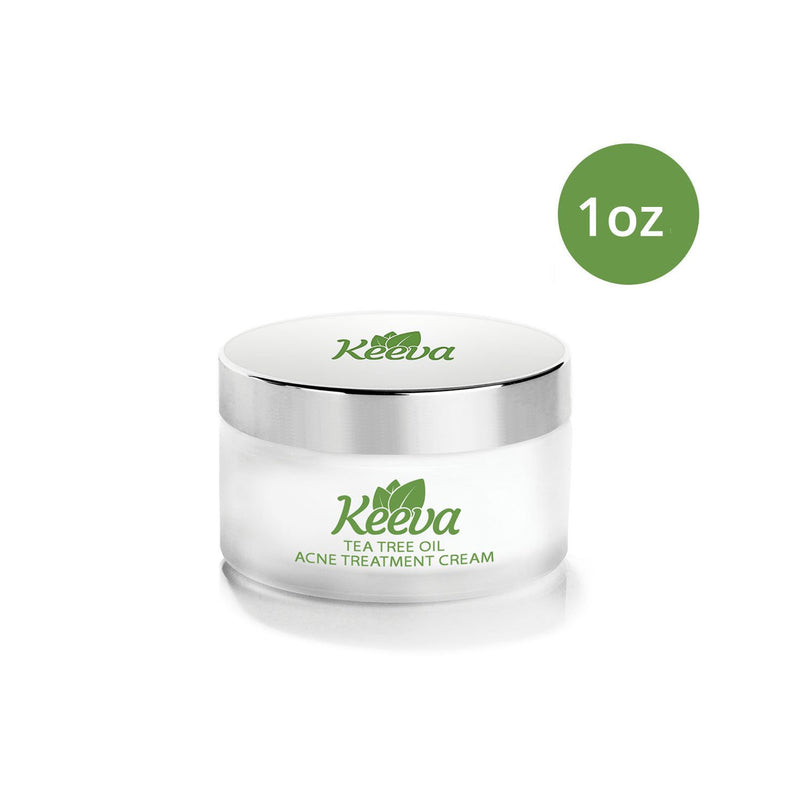 About the Product
Are you tired of using 3 different acne products that take 30 minutes to put on? It's time to try our one-shot, all-powerful, best-selling acne cream.
Shockingly simple, 100% natural formula that is comprised of Tea Tree Oil as the active ingredient for fighting acne, spots & scars. 

Creamy and light

Minty, tingling sensation when applying - feel it work right away!

Works on all skin types and acne types

Doesn't dry out your skin

Start seeing results in 48 hours

40,000+ satisfied customers

100-day money-back guarantee
Skin Types
Oily Skin

Dry Skin

Sensitive Skin
Works For
Acne

Acne Spots

Acne Scars

Clogged Pores

Bacterial, Cystic & Hormonal Acne
Natural Proprietary Ingredients
Deionized Water Stearic Acid Tea Tree Oil
Glyceryl Stearate
Shea Butter
Rosehip Seed Oil
Sesame Seed Oil
Olive Oil
Extracts of White Willow
Burdock
Milk Thistle
Hops
Sophora Root Extract
Squalene
Isooctyl
Palmitate
Isopropyl Myristate
Polydimethylsiloxane
Salicylic Acid
Vitamin E
Argan Oil
Phenoxyethanol
DL-Menthol
Hyaluronic Acid and Grape
Seed Extract
Daily Routine:
Twice per day, in the morning and in the evening before bed
How to Apply:
Wet your hands and face with warm water

Massage a small amount of Acne Cream to entire face and neck area
For Best Results:
Why Tea Tree Oil?
The root cause of acne is the blockage of the sebaceous glands. Tea Tree Oil, also known as melaleuca oil, naturally disinfects pores and dries out whiteheads, blackheads, pimples and other blemishes that people have on their face or back.
Keeva's powerful natural tea tree oil formula is the ultimate combination of nature & science - leaving your face glowing with youth as the tea tree oil penetrates your pores and kills acne bacteria within seconds. 
Keeva Works Better Than Other Products
Thanks to its high potency and purity, Keeva provides a unique combination of antibacterial and anti-inflammatory properties. These disinfecting and soothing properties, unlike other acne treatments, will not strip the skin of its natural oils and cause further damage.
100% Safe, Paraben-Free, No Animal Testing
Keeva gets rid of severe acne, blemishes, spots, cystic scars, comedones, blackheads, whiteheads, papules, pustules, nodules cysts, dark spots, removal - everyone and everywhere on hormonal adults, children, babies, teenagers, teens, men, women, pregnancy, chest, face, neck, butt, bacne, back-acne remedies, medication, pimple wash, stick benzoyl peroxide vs salicylic acid zits hyperpigmentation gel toner night sulfur tools aid cleanser mattifying pure cream.
Best Acne Cream Or Your Money Back!
If you can't honestly say Keeva is the best acne treatment you've ever used, we'll give you a full refund anytime within 100 days no questions asked. Currently, that's less than .02% of customers. Keeva's goal is to give you clear skin while providing you the healthy, bright, radiant complexion you deserve. Take control and place your order today to get rid of acne now and have the self-confidence you deserve!
10/10 Keeva user for the rest of my life
I have been using their acne cream for a couple years know. I have bad cystic acne and was once an avid face picker. I desperately spent weeks trying to find something and this showed up on a search one day and took a gamble. I will never not rave about this product, I will never not make sure I always have some. I have recommended so many people and have showed visual proof of my skin changing. A little goes a VERY long way and I love their sourcing. BUY IT. You will not regret anything.
(Picture with red hair up is my face today in 2022, others from 2019 and before) you can see my visible scaring and the gray discoloration from me picking. This product got rid of it all
Espero ver resultados !!!!!!
A mi hermana le ayudo así que estoy probando !nos vemos en un mes de uso!
I am very satisfied in this product. Highly recommended! My pimple marks are gone in 2 months. I will definetly order again.
My skin became hydrated
I love Acne Scar Cream! Before my face is so dry and my acne is bad especially in the chin area. When I start using this product, I can see a result within a few days. My skin became hydrated and acne scars slowly disappears. I also love the smell!
AMAZING PRODUCT!!!
Smells great, refreshing feel best of all it ACTUALLY WORKS!!! Started noticing dark spots clear up in just two days. I'll always have this in my skin care routine.
Significant relief for acne scars
I am 59 years old with serious acne scars from my teenage years on my back and neck. I wasn't expecting miracles, and there have not been any (yet). But there were has been significant improvement. My skin is softer and smoother, looks much better, and does not feel oily anymore. And I've only started about a month ago. Definitely would recommend
Feels great!
This product feel amazing and its not oily. Its easy to apply.
Made it worse
I tried this product for over a week and all it did was make my face break out even more. Will not be buying again.
Amazing
This product works so well I love it I'm not gonna stop buying it. Makes my skin look good and feel so soft. By far the best product I've used
Works well
Great product. Feels good on the skin and isn't oily. It's somewhat strong so keep away from eyes. Other than that I recommend.
WHAT PEOPLE ARE SAYING ABOUT US