$97.00
$150.00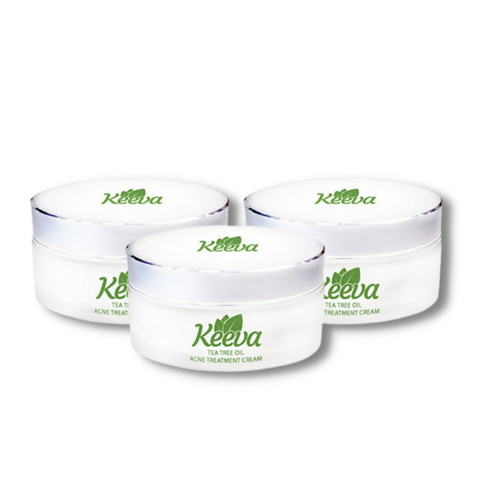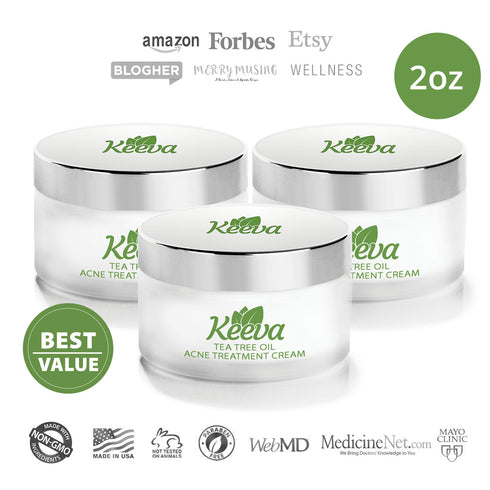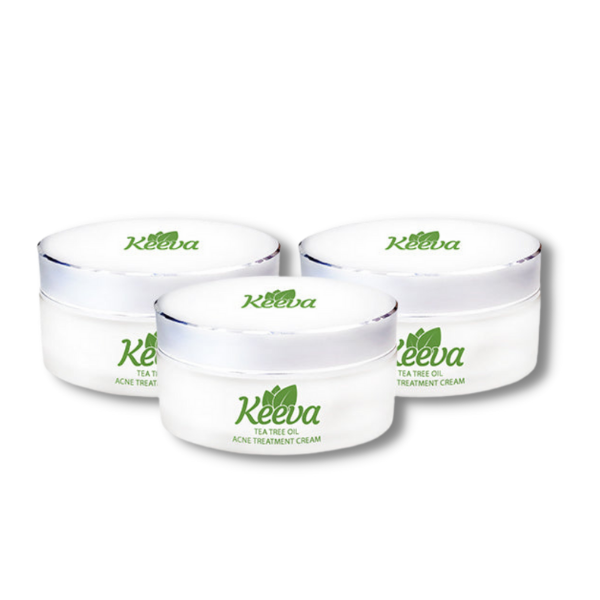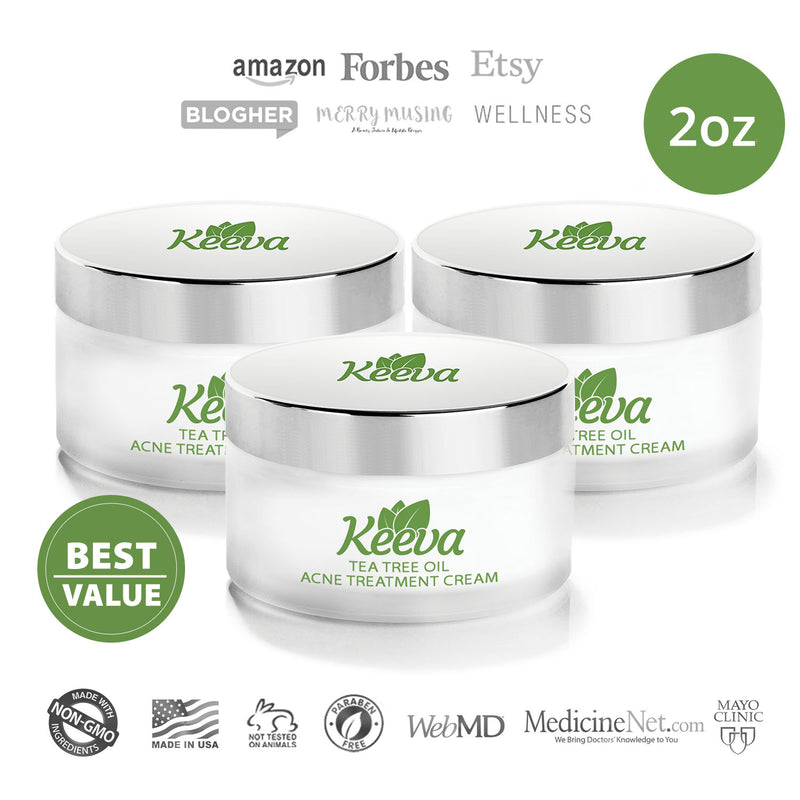 3 Pack of 2oz Jars of Keeva's ORIGINAL Tea Tree Oil Acne Treatment
Keeva's Natural Acne Cream Fights Acne Spots Scars, Cystic & Hormonal Acne. Natural 1-Step Formula, Doesn't Dry Out Your Skin. 100 Day Full Money Back Guarantee! Now available in 2 oz Jar!
Enjoy celebrity-status beauty and have the acne-free skin you deserve. This is a professional strength, all-in-one acne solution. There is nothing like Keeva on the market. No prescription required and 100% results guaranteed. A long-time celebrity secret, Keeva is now available to purchase. Keeva comes with everything you need for up to 3 months of treatment - a $2800+ value if you went into a dermatologist office.
Tired of Acne Blemishes, Spots, Scars or Cystic Acne, and Want a Solution that Actually is Proven to Work?
Stop using cotton balls to rub oil on your face or using 3 different acne products that take 30 minutes to put on! Keeva's shockingly simple formula is comprised of mostly tea tree oil as the active ingredient for fighting acne. Keeva is a natural acne treatment cream that works on all skin type and acne types. If you have hormonal, bacterial, or cystic acne, it doesn't matter. Just check our reviews.
The root cause of acne is blockage of the sebaceous glands. Tea Tree Oil, also known as melaleuca oil, naturally disinfects pores and dries out whiteheads, blackheads, pimples and other blemishes that people have on their face or back.
Tea Tree Oil is a secret, ancient herb that was discovered in ancient China over 2,000 years ago! It's only been since recently that people have "re-discovered" its powerful effects on killing bacteria while leaving your face feeling like a newborn baby's bottom!
Our tea tree oil is obtained by a thorough steam distillation of the leaves of the Melaleuca alternifolia plant. Native to China (and imported Australia in the 1700s), the Chinese tea tree oil is stronger, undiluted, and more pure than any other type of tea tree oil.
Keeva was created with sensitive skin in mind. Keeva will not make you break out. It feels cold on your face when you put it on with a gel-like feeling. That's known as the tea tree oil "tingle". Keeva also helps prevent future acne problems, leaving your skin cleaner, sexier, and blemish free.
Things we're proud of:
No animal testing

Natural ingredients

Safe with no side effects

No dry skin 

Fair price 
Awesome Results
I was using this acne cream since 2019.
It clear my blemishes and my skin looks clean and glowing
And I continuing to use this product.
Great Products
Been using your products and they're worth every penny. I have really sensitive skin so I have to be careful what I put on my face. Thank you for giving me great skin. 💙🙏😎🌈👍
BEST MOISTURIZER EVER
I've been using this product for years! My skin has never been better. The cooling sensation is everything! I just wished they made a bigger size because I need it MORE!
LOVE THIS STUFF!
After having tried pretty much every cream on the market, this one really is the best. Lightweight enough to put under makeup, too!
It works
It's an amazing product. Love it.
It works!
It's amazing product and it has a great customer service.
The best acne product I've EVER used!
The best acne product I've EVER used! I would highly recommend this product to anyone who struggles with cystic acne
Keeva cream is really helpful!
The acne cream by Keeva really works, if I notice a break out I put it on my face at night and by the morning all blemishes and bumps either get smaller or disappear. I would definitely recommend this product.
KEEVA SAVED MY SKIN
I love Keeva Acne Cream so much. My skin looks so much better after having used it for a bit. It helps my pores and scars
LOVE IT!!!
Nothing works better! Believe me, I've be to the dermatologist enough to know harsh topicals and prescriptions don't measure up!
WHAT PEOPLE ARE SAYING ABOUT US