$149.00
$300.00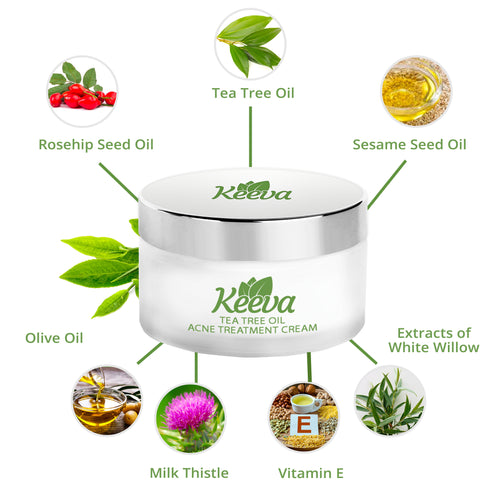 Acne Kit Bundle - Buy 1, Get 1 FREE + FREE Derma Roller
BUY 1 GET 1 FREE SALE (Get 2 Kits When You Order Today)
Your Order Includes These Organic Acne-Fighting Products Guaranteed To Get You Amazing Results in 30 Days Or Get 100% of Your Money Back! You get:
About the Product
It can be quite hard to clear your acne naturally through diet alone, but when you use Keeva Organics 3 in 1 Acne Kit, it's easy for your skin to get what's needed to fight acne and have amazing skin health.
Our 3in 1 Acne Kit is the absolute best solution for your acne. Our Acne Cream, Acne Face Wash & Acne Serum work together perfectly to keep your skin clean, healthy, and acne-free.
Shockingly simple, 100% natural formula that is comprised of Tea Tree Oil as the active ingredient for fighting acne, spots & scars. 

Creamy and light

Minty, tingling sensation when applying - feel it work right away!

Works on all skin types and acne types

Doesn't dry out your skin

Start seeing results in 48 hours

40,000+ satisfied customers

100-day money-back guarantee
Skin Types
Oily Skin

Dry Skin

Sensitive Skin
Works For
Acne

Acne Blemishes

Acne Spots

Acne Scars

Clogged Pores

Bacterial, Cystic & Hormonal Acne

Severe Breakouts
Natural Proprietary Ingredients
Deionized Water Stearic Acid Tea Tree Oil, Glyceryl Stearate, Shea Butter, Rosehip Seed Oil, Sesame Seed Oil, Olive Oil , Extracts of White Willow, Burdock, Milk Thistle, Hops, Sophora Root Extract, Squalene, Isooctyl Palmitate, Isopropyl Myristate, Polydimethylsiloxane, Salicylic Acid, Vitamin E, Argan Oil, Phenoxyethanol, DL-Menthol, Hyaluronic Acid and Grape Seed Extract. No more dry skin, or harmful chemicals, parabens, or sulfates like most acne treatments.
3 Step Process:

Our powerful Keeva Face Wash is packed with organic ingredients that cleanse your pores and remove excess oils, without drying your face. 

Keeva's #1 selling Acne Cream kills acne and moisturizes your face at the same time. 

Finally, Keeva's MD grade Acne Serum delivers essential nutrients for skin health that leaves your skin soft and beautiful.
Daily Routine:
Morning:
Wash face with warm water using the Keeva Face Wash.

Apply a tiny amount (not too much) of Keeva Acne Cream, just enough to massage and spread onto the skin (face and neck).

Apply Keeva Acne Serum overall affected areas.
Evening:
1 Wash face with warm water using the Keeva Face Wash.

Apply Keeva Acne Serum only on targeted areas where Acne Blemishes, Spots, Scars, B-acne, Pimples or Blackheads are.

Apply the Keeva Acne Cream overall affected areas.
Limit 3 Per Customer
Many customers are buying 3 kits to stock up and take advantage of this huge limited time sale because there are only 100 bonus items available -- in order to give others a chance, please purchase no more than 3 kits.
Keeva Works Better Than Other Products
Thanks to its high potency and purity, Keeva provides a unique combination of antibacterial and anti-inflammatory properties. These disinfecting and soothing properties, unlike other acne treatments, will not strip the skin of its natural oils and cause further damage.
100% Safe, Paraben-Free, No Animal Testing
Keeva gets rid of severe acne, blemishes, spots, cystic scars, comedones, blackheads, whiteheads, papules, pustules, nodules cysts, dark spots, removal - everyone and everywhere on hormonal adults, children, babies, teenagers, teens, men, women, pregnancy, chest, face, neck, butt, bacne, back-acne remedies, medication, pimple wash, stick benzoyl peroxide vs salicylic acid zits hyperpigmentation gel toner night sulfur tools aid cleanser mattifying pure cream.
Best Acne Cream Or Your Money Back!
If you can't honestly say Keeva was the most effective products you've ever used, we'll give you a full refund anytime within 100 days no questions ask. Currently, that's less than 1% of customers. Our goal is to give you clear skin, naturally. We stand by our acne products with tea tree oil because they work.
Keep the Bonus
We're so confident that you'll love Keeva that you can keep the bonus item even if you return the kits -- all offers are backed by Keeva's ironclad 100-day, 100 % money-back guarantee. Keeva's customer satisfaction rate is 99% and return rates are under 1%










Skintastic
I purchased Keeva for my granddaughter a few years back when it first came out and it was amazing how it cleared up her skin! And today she still prefers keeva over anything else :-) I think she is truly happy with it !
Great product
I was searching for something without all the chemicals for my daughter a few years ago when she was a new teen and just starting to experience breakouts. I stumbled across Keeva. It worked great and she loved it. She is still using it today, and has also recruited her friend!
Best product ❤️
I've been suffering for cystic acne and hormonal acne the 3 in one kit works really good it will dries my acne after 3 days. It will leave scarring but it fades eventually I recommend using the acne scar treatment cream also I recommended this product too with my family and they loved it..
So far so good
I have bad adult acne. I would have breakouts , then a brief period of "clarity." then like clock work the breakouts return. I first started using a Tea Tree oil wash from another company about 3 months ago. After a month I came across the Keeva acne cream. I started using it and besides it making my skin really nice it seemed to have a good effect on my acne. Instead of breakouts I would get a pimple hear and there. So I decided to buy the Keeva kit after a month and a half. Since then I've had no breakouts or pimples. To be honest I still use the Tea Tree cleaner from the other comp[any as a pre-wash to using the Keeva system. But My skin is clearer and the Keeva products make your skin feel great without drying it out. My scaring is still there but it has been reducing. ( the scarring was pretty bad.) I have been using the Derma Roller so we'll see what another month brings.
All in all I think Keeva is the best system for acne I have ever used. I've used Pro-active, Exposed skin care and every product found at the local Walgreens. Hopefully these results are here to stay !!!! I wish I had before and after pics to show. So I say hey, give it a shot. You might fall in love!!!!
Best product out there!
This is by far, the best acne product I've ever used. I have been very pleased with the results!
CAN'T LIVE WITHOUT THIS STUFF!!
The way I found out about KEEVA is quite funny... There was a small box at a garage sale (unopened and in box) for a few bucks. I read the box...hadn't heard of it. So, I thought I would try it for kicks! I have some adult acne from time to time, but my twelve year old daughter battles with it constantly...we had tried everything - well, except KEEVA! I "googled" it and we bought some. Within days we both were loving it! Her skin looks SO good now and we both can tell if we don't use it for even a day or two - we are hooked for life! I don't do reviews often, but this stuff is amazing!!
BEST ACNE PRODUCT
My pre teen has been suffering with Acne for 1 year. I have tried several over the counter products from retail stores and none of them seem to work. She is going thru puberty and is 10 years old. Keeva has been a life saver to her. Literally within 2 weeks we saw her Acne fade away. I highly recommend this product to any one that is suffering with Acne.
Why there have to be a lot of products
Can a just get one kit of three product. I don't like the fact that they are to many.
Great product!!
Works great without being harsh and leaving face dry!
Moisturizing and doesn't bleach fabrics
I haven't been using it long enough to see much decrease in my acne. I use it every day and really like the smell and moisturizing quality. I'm glad it's fighting acne and not drying out my skin. The face wash bottles are small so they don't last long but the product feels good and the acne cream is awesome! I also really appreciate that the product line doesn't bleach fabrics and wears well under makeup for daytime use.
WHAT PEOPLE ARE SAYING ABOUT US