$45.00
$55.00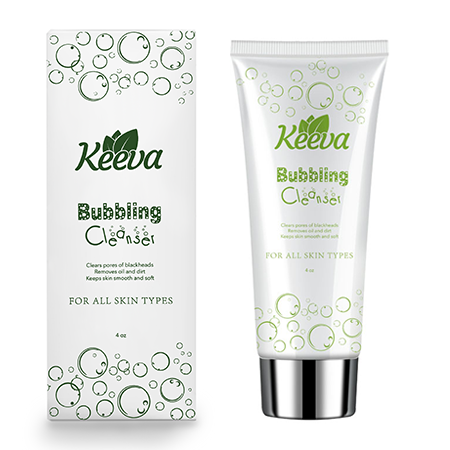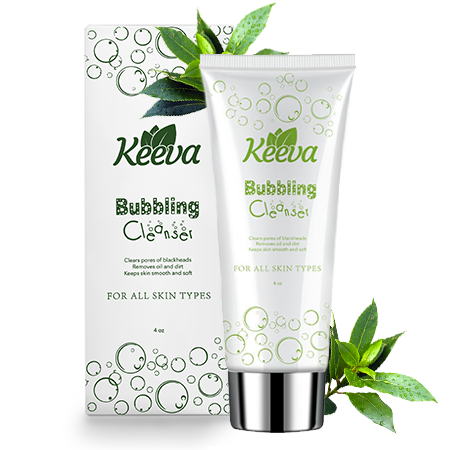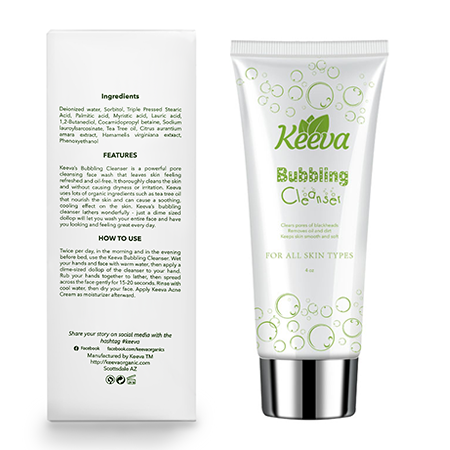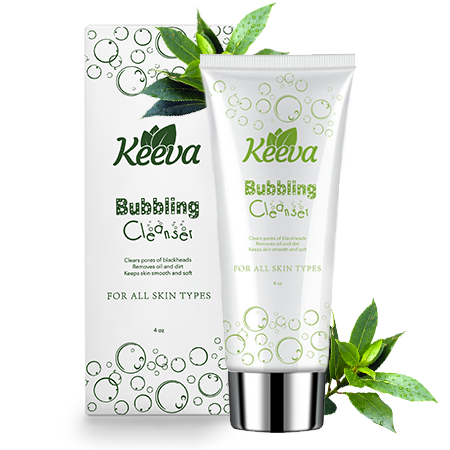 About the Product
Keeva Bubbling Cleanser is a powerful pore cleansing face wash that leaves skin feeling refreshed and oil-free.
Highest quality tea tree oil
Gets rid of Acne in days
Proud American Company
No animal testing
Keeva Bubbling Cleanser
is a powerful pore cleansing face wash that leaves skin feeling refreshed and oil-free. It thoroughly cleanses the skin and without causing dryness or irritation. Keeva uses lots of organic ingredients such as Tea Tree Oil that nourish the skin and can cause a soothing cooling effect on the skin. Keeva's Bubbling Cleanser lathers wonderfully - just a dime sized dollop will let you wash your entire face and have you looking and feeling great every day.
CREAMY, LIGHT, & NO-MESS!
Our formula goes on clear and gets absorbed by your skin with ease and no residue. You can enjoy a quick creamy and light application and continue with the rest of your day. It's completely invisible and mess-free!
DEEP TINGLY & CLEAN
Thanks to our treatment's potent blend of essential oils, you can feel it working. It clears acne from deep within the pores, not just on the surface. Our formula has antiseptic properties which tame blemishes and balance oil production on the face. In short, it keeps pores clear and skin properly moisturized, thus reducing scarring and smoothing complexion!
USE ON-THE-GO
Perfect for when you notice a pimple but are short on time! All you have to do is apply to your skin and you're done. Since it's mes free and clear, you can apply it at any time of the day at any location! It's powerful natural ingredients will start working to give you clearer, more beautiful skin while you enjoy the rest of the day.
PATENTED CHINESE TEA TREE OIL ORIGINAL FORMULA:
This type of tea tree oil is better and more effective than any other type. Our Tea Tree Oil is obtained by a thorough steam distillation of the leaves of the Melaleuca alternifolia plant. Native to China (and imported Australia in the 1700s.) Keeva's powerful natural tea tree oil formula is the ultimate combination of nature & science - leaving your face glowing as the tea tree oil penetrates your pores and kills acne within seconds.
NATURAL PROPRIETARY INGREDIENTS
Tea Tree Oil, 
Shea Butter, 
Rosehip Seed Oil, 
Sesame Seed Oil, 
Olive Oil ,
 Extracts of White Willow, 
Burdock, 
Milk Thistle, 
Hops, 
Sophora Root Extract,
and more! No more dry skin, or harmful chemicals, parabens, or sulfates like most acne treatments.
People who have used tea tree oil instead of other essential oils for acne report that it is the best. Here is why. Tea tree oil, in all its forms, is one of the most versatile materials on earth. It can be used in a myriad of ways and is primarily used in a topical fashion. The most common uses are as an antimicrobial for acne, dandruff, lice and herpes. It leaves you with non-oily, shiny, clean, crisp, skin all from a non-toxic and nice smelling, naturally occurring herb. Results happen in days. Even without acne, tea tree oil makes for a younger looking face.
So happy!!
I finally found a great face wash that has helped clear up my skin. My face feels and looks so much better. Definitely satisfied and glad I tried out this product.
I believe in this product!
I had always used the Keeva Clarifying Face Wash before seeing a BOGO advertisement about this product. I ordered the BOGO special, and I discovered that using this product makes my face feel very clean, refreshed, and ever so soft. I am truly hooked on this wonderful product!
Love this face wash!!
I wasn't sure about this face wash after my first use because it made my skin feel really dry as I was rinsing it but after using it for a few weeks now, I love it! My skin feels wonderful and it looks amazing. I'm even starting to prefer it over my Murad face wash (which I've loved for a long time)!! Even my 14 year old who suffers from and started using it and it's helping his skin so much!! Will definitely purchase this regularly!
Satisfied!!!
I love this face wash. My face feels clean without drying it out. I use this in the shower and the other face wash in the morning. I have been using the Keeva products for a little over a month and I couldn't be more satisfied. I had spent a lot of money at the dermatologist on prescription medication, face wash and creams. I can now go without makeup and feel confident. It had been months since I had been able to do that!
WHAT PEOPLE ARE SAYING ABOUT US